Frequently Asked Questions (FAQ)
How to reach the apartment?
From the Airport VIE Flughafen Wien Schwechat
There are 3 options available
1.) Airport Taxi Service. This is the most convenient option.
If you want to pre-order an Airport Taxi we recommend the company  "Funktaxi 40100" which is basically the taxi HQ. Their phone number is +43140100.
Taxi costs in Austria are regulated. From Airport to Vienna City Area they are about:
1-4 persons + luggage: 36€
5-6 persons + luggage: 43€
7-8 persons + luggage: 48€ (they send a Van or Bus)*
9+ persons + luggage: 75€ (they send a Van or Bus)*
*Van/Bus can only be pre-ordered if you agree that they send 2 normal cars (2×36€) in case no Van/Bus is available
You can pre-order a taxi by calling there phone number or you walk to their office desk after landing.
When arriving by plane, this is how to find the taxi desk: from the hall where you pickup your luggage you go out to the arrival hall, turn left immediately and after about 40m find a yellow-black desk labeled "Taxi 40100" (on the opposite side).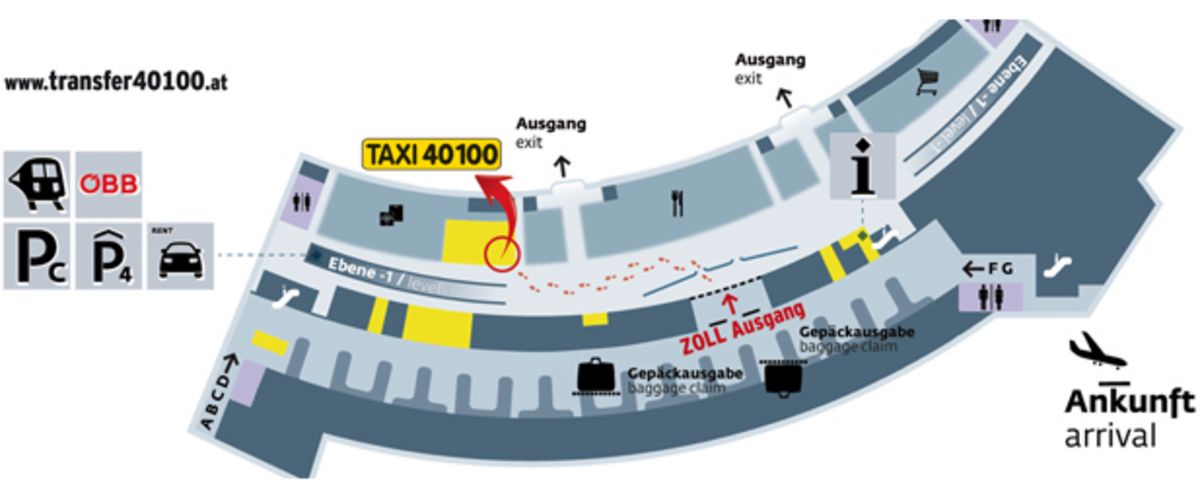 2.) City Airport Train (CAT). This train is very fast, only 16 minutes from airport to "Landstraße/Wien Mitte" Metro Station. Costs are listed here (click). About 11€/person.
3.) Normal train ("Schnellbahn"). Another very simple and inexpensive way to reach us is to use the commuter rail system known as the "Schnellbahn": Take the S7, which leaves regularly from VIE Vienna-Schwechat Airport. Get off the S7 at "Landstraße/Wien Mitte". From there use the metro network.
4.) Bus "Vienna Airport Lines". This is theapest option. Departs about once per hour, several pickup locations ("Schwedenplatz" and or one of the train stations Hauptbahnhof / Westbahnhof is probably best for you). Price is about 9€ one-way. Please find all details on www.viennaairportlines.at
From the Train Station
From all train stations you have access to the public metro network ("U-Bahn").
Vienna Public Transport Network

How to open the keybox?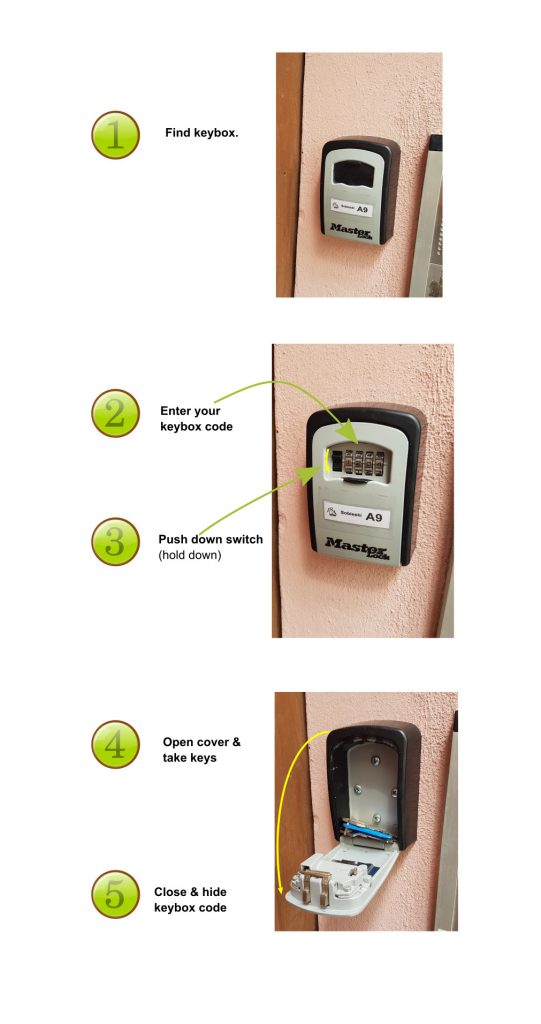 Where can I park my car?
In Vienna there is paid parking in the whole city area between 09:00am and 10:00pm. Unfortunately unlike in most other cities there are no ticket machines which renders parking a rather complicated issue for tourists. For short time parking there exist parking forms sold in tobacco shops (in german "Tabaktraffik")  but for parking for full days they are totally unpractical (3 hour limit, and more expensive than parking garages; 2.20€/hour).
So basically you have only 2 options:
you either bring your car to a parking garage, or
for some locations we can provide a hotel parking card.
There are certain times when there is free street parking though (not ticket or card needed):
Saturday/Sunday/national holidays is free parking
nightly parking between 22:00 and 09:00 is for free as well
Recommended options based on your apartment location:
1.) We can provide a hotel parking card if your apartment address is one of these:
Esslinggasse
Werdertorgasse
Pramergasse
Müllnergasse
Please note that the hotel parking card must be reserved by contacting us at least 3 days before arrival. We can provide only a very limited number of parking cards and therefore availability cannot be guaranteed (tip: reserve as early as you can).
This is the most convenient option as you will be able to park your car close to the apartment. Costs are 15€/day.
Please note that hotel parking card is not for a fixed spot or a garage. Instead it is more like a "premium parking ticket" and gives you permission for long-term parking on public street parking lots.  For more information read our hotel parking card instructions.
---
2.) If your apartment is located in Spiegelgasse / St. Stephans Cathedral, we recommend parking garage "Mahlerstraße 6-8, 1010 Wien"
The name of the parking garage is "Contipark Tiefgarage Kärntnerringgarage" next to the opera. This garage is relatively cheap and in walking distance to your apartment in Spiegelgasse. There are other garages a bit closer but significantly more expensive.
This is the link to google maps: https://goo.gl/maps/spEted8MHbw
If you don't mind the costs, there is a parking garage very close (basically at the back side of the building): Parkgarage Neuer Markt (close but expensive ~3.90€/hour, 40€ max per day)
---
3.) If your apartment is located in Bloschgasse  we recommend:
a.) "Parktiger P&R Heiligenstadt", address: Michael-Neumann-Gasse, 1190 Wien
b.) "Parkplatz P+R Muthgasse", address: Muthgasse 42, 1190 Wien
Costs about 5€/day. Both are close to metro station Heiligenstadt. You will have access to your car anytime by a 7-minute bus ride from your apartment.
---
4.) Alternatively (possible for all locations) we recommend a "Park & Ride Garage Spittelau".
The address of this parking garage is: "Spittelauer Lände 12, 1090 Wien". Costs for parking are about 5€/day. Unfortunately the garage is full quite often (commuters); parking easier in the late afternoon/evening. More details here
An alternative (also close to metro station) is this parking garage: WIPARK Unizentrum Altanstraße (5€ / day).
What is the weather forecast for Vienna?
Can we get additional keys?
The usual method is to share your key by using the keybox.
The last person who leaves the apartment puts the keys into the keybox.
The first person coming back, opens the door for the others.
This method works quite well.
How to use the Hotel Parking Card?
Here is how it works
The hotel parking card consists of two parts:
1.) a blue-white plastic card
2.) one yellow form sheet for each day (fill in your car plate number + day of parking)
Put both parts into your car behind the front-glass.

Note that you are not allowed to re-use a yellow form sheet. Also corrections (strike-through etc.) make it invalid.
Where can I place my car?

You can place your car on any free parking lot around the building and neighboring streets (actually all streets the same district).
It is allowed to leave your car there for your whole stay (no time limit).
STILL CAREFULLY WATCH STREET SIGNS! (see warning text below)
What are the costs?
Costs are 15€/day for MON-FRI (09:00 – 22:00).
Weekends (SAT,SUN) are free.
Important: before check-out please return all forms+card. They are official documents and the card contains an RFID-chip. For lost or not-returned cards we will charge a service fee of 50€
Are towels and bedsheets provided?
Yes, we provide:
towels
bed sheets (we use stretch sheets)
duvet covers and pillow cases
hand soap
toilet paper
Usually we do not provide:
tooth brushes or toothpaste
shower gel (the provided hand soap can be used a shower gel tough)
Stove does not heat. Why?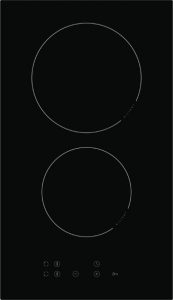 Some of our stoves come with a child-protection. If the LED-display shows something like "LO" this means it is locked.
Unlock the child-protection:
turn on the stove (on/off button)
press the lock/key icon for 10 seconds
That's it.
How to use the SmartTV ?